A very warm welcome to Barnes Healing Church!

We are a beautiful Spiritualist church in Barnes, Southwest London.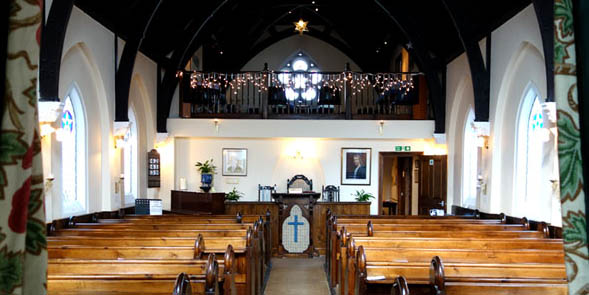 Barnes Healing Church is located on White Hart Lane between numbers 77 and 79 and is just a few minutes walk from Barnes Bridge railway station with several regular bus routes stopping nearby.

This beautiful church hosts some wonderful nights of mediumship, a wide range of excellent workshops, healing and much more.

We offer two evenings of Mediumship each week. A beautiful, traditional Spiritualist Service every Sunday evening at 6:30pm with hymns, a Healing invocation and prayer and finishing with a wonderful demonstration of Mediumship.

Our other evening of Mediumship is on Wednesdays at 7:30pm with a small entrance fee of £3. We open with a prayer and an uplifting song before an extended demonstration by our guest Medium.

We offer Healing on both Tuesday evenings and Thursday lunchtimes. Please just turn up as there is no need to book.
Healing is a beautiful and relaxing experience and we have a wonderful team of Healers and volunteers. Tuesday evening is our Healing Circle, a time to sit in the gentle, healing peace of the church while our healers quietly work. It is between 7pm and 8pm and you can stay for as long or as short a time as you would like during this our with time for a cup of tea afterwards.

On Thursdays between 10:30am and 1pm we offer one-to-one healing where you are invited to either sit comfortably or lay down on one of our healing couches while one of our trained healers works with you. If you have experienced healing before you will know how wonderful and relaxing an experience it can be and if you are new to it then at some point please allow yourself this gentle gift.

There is no fee but as we run our Healing sessions on goodwill and donations any financial gesture is greatly appreciated. We suggest a donation of £5 for Thursday one-to-one healing which also allows the church to offer free Healing to those in financial need.

The church also offers a range of development circles, workshops, open platforms and a host of other activities. We are registered to carry out weddings, to conduct Baby naming's and much more. We have coffee mornings, fetes and other special events all arranged and staffed by the friends and volunteers who make this place so special and so loved.

People always seem to find this beautiful place at the perfect point in their lives and we look forward to seeing you here soon!
Upcoming Events (please see our Special Events page for more details):
An evening of Mediumship with Ricky Martin.
Friday 17th June 7:30pm (doors open 7pm) £5 on the door.
Scottish Medium Ricky Martin will be joining us for this fun evening of Mediumship which will also include a special question and answer session plus some excellent raffles! Arrive early for a good seat!
Crystal Healing Workshop with Caroline Frost.
Saturday 23rd July 10:30am - 4pm. Price £25
An inspiring, fun and informative workshop which will deepen your knowledge of crystals and also give you some lovely, gentle healing.
More details on our special events page.
To be kept up to date with events, or for any last minute changes to our services, please visit our Facebook page using the link below:
Mediums for our Sunday Service at 6:30pm
Sunday 1st May - Irene Hanson
Sunday 8th May - Susie Shaw
Sunday 15th May - Avril Price
Sunday 22nd May - To be confirmed
Sunday 29th May - Michael Lennon
Sunday 5th June - Angela Watkins
Sunday 12th June - Iris Bridgewater
Sunday 19th June - Vanda Galazka
Sunday 26th June - Janet Neville
Mediums for our Wednesday night at 7:30pm
Wednesday 4th May - Karen Pyle
Wednesday 11th May - Gladys Williams
Wednesday 18th May - Nicky Huntingford
Wednesday 25th May - Janet Neville
Sunday 1st June - To be confirmed
Sunday 8th June - Karen Pyle
Sunday 15th June - Sandra Doughty
Sunday 22nd June - David Burke
Sunday 29th June - To be confirmed
Open Platform. 1st Monday of each month (other than Bank Holidays) run by Heather McDonald between 7pm and 9pm £4. A chance for new and aspiring Mediums and inspirational speakers to demonstrate in a friendly atmosphere under expert guidance.

For general enquiries please call us on: 07581 534028
Or search 'Barneshealingchurch' on Facebook for any sudden changes or updates to our events.
barneshealingchurch@hotmail.co.uk